On September 4, a tropical disturbance began to be monitored near the coast of Southwest. The wave quickly developed in favorable conditions and became Tropical Depression Thirteen on September 6. Shortly afterwards, it intensified into Tropical Storm Lenny just 5 hours later. After becoming a tropical storm, Lenny continued to move towards the northeast and gradually strengthened, becoming a strong tropical storm on September 8. On September 9, Lenny underwent rapid intensification becoming a hurricane and then a major hurricane within the span of 14 hours. Lenny's gained its peak intensity of 140 mph and a minimum pressure of 935 mbar. On September 10, Lenny soon began its weakening process, becoming a category 2 and then into a category 1 during the same day. Lenny then continued to weaken, becoming a tropical storm on September 11. Lenny then dissipated afterwards on September 12. Lenny caused some large swells and dangerous rip currents on the Biolixi Islands.
.
.
.
.
.
.
.
.
.
.
.
.
.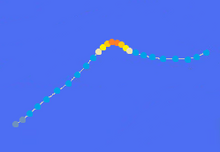 .
.
.
.
.
See also
Edit
---
Ad blocker interference detected!
Wikia is a free-to-use site that makes money from advertising. We have a modified experience for viewers using ad blockers

Wikia is not accessible if you've made further modifications. Remove the custom ad blocker rule(s) and the page will load as expected.