Omar was the fifteenth named storm, ninth hurricane, and sixth major hurricane of the 2012 Biolixi Ocean hurricane season. Omar's duration was between September 7 and September 16. Omar was a strong hurricane with 145 mph winds and minimum pressure of 932 mbar. Omar formed from a tropical wave that formed off the coast of Southwest. The wave became a tropical depression and then Tropical Storm Omar as it continued to strengthen. Omar neared the coast of the Northern Biolixi Island and brought heavy rain as it inched along the northern coast of the island. Omar then moved out to sea where it rapidly intensified and became a major hurricane on September 11. Omar then curved further out to sea and was strongly sheared by a strong through that moved Omar to the northwest. Omar then dissipated on September 16 after having the center on circulation completely exposed. Omar caused an estimated 130 million simoleons in damage and 2 deaths
Meteorological History
Edit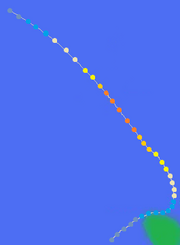 On September 5, a tropical wave emerged off the coast of Southwest. The wave slowly organized as it neared the Biolixi Islands on September 6. The National Hurricane Center gave it a 90% chance of development during the same day off the coast of the Northern Biolixi Island. On September 7, the tropical disturbance had a well defined center and became Tropical Depression Fifteen. Fifteen inched along the coast at a near stationary pace and became Tropical Storm Omar on September 9. Omar then began to move away from the coast and intensified into a category 1 hurricane on September 10. On September 11, while continuing its rapid strengthening, Omar became a category 2 hurricane. On September 12, a colf front began to move slowly eastward next to Omar, making Omar move at a faster pace towards the northwest; Omar also became a major hurricane after meeting the cold front. On September 13, Omar attained its peak intensity with 145 mph winds and minimum pressure 932 mbar. On September 14, the trough began to shear Omar, weakening it to a category 3 and then a category 2 hurricane. While continuing to move into cooler waters, Omar weakened into a tropical storm on September 15 a few hundred miles off the coast of Northwest. On September 16, Omar completely dissipated after meeting a very strong upper-level wind flow. Omar mainly caused flooding rains to the Northern Biolixi Island, Omar caused 130 million simoleons in damage and 2 deaths.
Preparation and Impact
Edit
Northern Biolixi Island
Edit
Omar only affected the Northern Biolixi Island as a minimal tropical storm with 60 mph winds. Omar did bring heavy rain to the area, up to 8 inches in some areas, but serious preparation wasn't needed. Omar then moved out to sea and then strengthened into a strong hurricane. Omar caused an estimated 130 million simoleons in damage and 2 deaths
Ad blocker interference detected!
Wikia is a free-to-use site that makes money from advertising. We have a modified experience for viewers using ad blockers

Wikia is not accessible if you've made further modifications. Remove the custom ad blocker rule(s) and the page will load as expected.