William was the twenty-second named storm and thirteenth hurricane of the 2011 Biolixi Ocean hurricane season. William's duration was between September 23 and September 26. William's maximum winds were 80 mph and minimum pressure was at 988 mbar. William was somewhat small category 1 hurricane that made a landfall in the state of Roanoke. William caused widespread flooding and nearly washed out the small town of Kenneth, Roanoke. William caused more flood based damage then wind based damage with a total of 300.9 million simoleons in total damage.
Meteorological History
Edit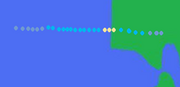 On September 20, a low pressure system merged with a cold front creating a tropical low. The
National Hurricane Center
gave the system a 70% chance of developing. On September 23 the final system of the
2011 Biolixi Ocean hurricane season
formed. Tropical Depression Twenty-Two moved slowly towards the
Roanoke
coast. The next day on the 24th, Twenty-Two became the final named storm of the season, William. William tracked steadily towards the coast with 60 mph winds; the
National Hurricane Center
forecasted the system to only stay a tropical storm due to a merging low infront of the system. Unmandatory evacuations were ordered on the
Roanoke
coast. Later that day on September 24, William strengthened into a category 1 hurricane. On September 25 mandatory evacuations were ordered;William made landfall later that day. William soon weakened into a tropical storm, then a depression, and soon dissipated on September 26. William added to the amount of flooding caused by
Tropical Storm Doris
earlier that year; William caused 300.9 million simoleons in damage and killed 14 sims.
Preparations and Impact
Edit
The final system of the year brought heavy rain and widespread flooding to Roanoke. An estimated 17.7 inches of rain were reported in the hardest hit town called Kenneth, which is right along the beach area where William made landfall. William was predicted to only make landfall as a strong tropical storm, but due to a system in front of it moving out and bringing more moisture to the area, William strengthened into a category 1 before landfall. William killed 14 sims and caused an estimated 300.9 million simoleons in damage.
---
Ad blocker interference detected!
Wikia is a free-to-use site that makes money from advertising. We have a modified experience for viewers using ad blockers

Wikia is not accessible if you've made further modifications. Remove the custom ad blocker rule(s) and the page will load as expected.