On May 17, an area of low pressure began to develop to the far west of Roanoke. The low pressure system moved to the east and slowly organized over unsually warm May waters. On May 22, the system began to move to the north due to a blocking high pressure system to its east. On May 23, the system was officially announced the first storm of the season, Tropical Depression One. One continued to the NNW and slowly strengthened in slightly favorable conditions; it gained its peak intensity of 35 mph and minimum pressure of 1003 mbar on May 24. During the early morning hours of May 25, One began its weakening process as it met more unfavorable conditions. One's center of circulation became completely exposed on May 26 and then dissipated.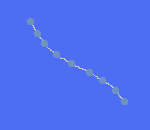 .
.
.
.
.
.
See also
Edit
---
Ad blocker interference detected!
Wikia is a free-to-use site that makes money from advertising. We have a modified experience for viewers using ad blockers

Wikia is not accessible if you've made further modifications. Remove the custom ad blocker rule(s) and the page will load as expected.